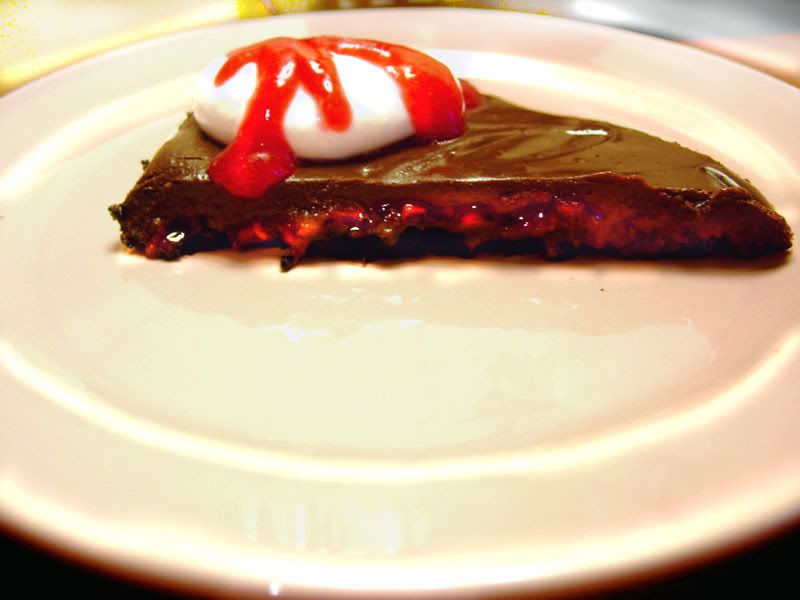 My daughter, the best daughter in the world, and I'm not talking about her evil older sister, made me a delicious surprise as I labored over my recipes page, cursing the heavens as I toiled in front of the computer screen. At first I thought the chocolate and raspberry juice staining her hands and face were the blood and dirt from the tireless effort--yet she came away unscathed, with a delectable treat waiting in the refrigerator.
Ha! I've seized the keyboard from Daughter Number Two, who wrote the above.

She really should start posting recipes on her MySpace page, and leave my blog to me. But she can claim my kitchen any time she wants.
This recipe for Chocolate and Raspberry tart was featured on the cover of one of my cooking magazines, and she's been reminding me to make it the last few weeks. Of course, it wasn't vegan, and it called for making 4 mini-tarts instead of one big one, and it also used British measurements and terms. So while I struggled with messy HTML, I offered advice, somewhat distractedly, during my chocolate breaks. (Someone had to eat the extra Oreos.)
The result was incredible. She used French soya cream, which soars above American and British vegan cream offerings, and it whips up pretty well too. In fact, I'd say it's better than the dairy version. Those French! Soy clever! (Uh oh. DNT is threatening to take over the keyboard again.)

The end result was plate-scraping scrumptious. If that engineering thing doesn't work out for DNT, maybe she can open a restaurant.
To read how she made this, plus her comments, continue reading.

To make this amazing tastebud-annihilator, you need:
15 oreo cookies (1/3 American package, about one UK package)
1/4 cup margarine, melted, plus more to grease pan
1 1/4 cup soy cream (1/4 cup for whipped topping, leave out if you'd rather use Cool Whip or something)
1 tsp vanilla extract
1 cup (200g) dark (plain) chocolate, in pieces
1 tbsp sugar, if needed
1 1/4 cup fresh raspberries (1/2 cup for sauce topping)
1 tbsp confectioners sugar
Cocoa powder to dust, optional
Grease the sides and base of a tart pan (or multiple tart pans, if you want individual tarts.) Put the Oreos in a food processor and put it on whatever setting makes them into crumbs, and make them into crumbs. Add the melted margarine and do the crumb thing again so that the mixture is moist. (If it's too wet or feels too buttery, add an extra cookie and blend some more.)
Cover the base of your tart pan(s) with the Oreo mixture, spreading evenly. (You can cover the sides if you have enough, it doesn't really make a difference.) Chill this crust as you make the filling.
For the filling, heat one cup of the cream and the teaspoon of vanilla in a pan over medium heat. Remove from heat just before boiling point. Add in the chocolate and stir until melted. Taste, and add sugar if needed. (This will depend on how dark your chocolate is, and how sweet your tooth is.—KathyF) Place the mixture in a bowl and cool completely.
As it cools, crush 3/4 cup of the raspberries in a bowl with a fork. Spread over the Oreo crust evenly. (We added some raspberry preserves to spread the mixture further and make it sweeter.) Cover this with the chocolate cream filling, cover, and cool in the refrigerator for about two hours.
Before serving, you can use the remainder of the raspberries and cream and the sugar to make a topping for the tarts. With a fork, crush the raspberries with the powdered sugar and press them in a sieve over a bowl so that it's kind of liquidy and foamy, with no seeds. Once you think you have enough of this sauce stuff, discard the seedy part. Whip the cream with a whisk until it's light and fluffy. After the tart has chilled for two hours, slice it (if you haven't made individual tarts) and top with a spoonful of the whipped cream and then spoon on the raspberry sauce.
When you are halfway through eating, it should look like this: